Choosing the perfect venue for your event is a huge decision and can potentially make or break the success of it. Before you start searching for venues make sure you outline exactly what you need from a venue in order for them to deliver your event in exactly the way you'd like it. Once you've decided what these key elements are, you can then start searching for your perfect event venue.
From our experience, here's a list of key elements that you may like to consider when choosing your perfect event venue.
---
Location & Accessibility
Are you looking at holding your event local to where you live or are you considering a venue further afield? If you considering looking outside of your town, you may need to think about the feasibility of how your other guests will travel there and you may even need to consider if they will need somewhere to stay for the night if it's too far away. If this is the case, it may be wise to consider a hotel where you can hold the event and book bedrooms all in one place or choose a venue that has accommodation options nearby.
If your guests need to travel to the venue, remember to think about how accessible it is for all modes of transport. Are any of your guests unable to drive? Will anyone be taking the train? Perhaps booking that rural venue off the beaten track isn't the best idea if your guests are relying on public transport…
You'll also need to consider parking. Usually, the majority of your guests will drive, so it's worth thinking about where they can park and how much this will cost them. If your venue has complimentary, onsite parking, you're onto a win!
Capacities
Venues can, to an extent, be flexible with the capacities that their event spaces can accommodate. This will invariably be dependent on how you would like the space to be set up, for example, if you would like a formal sit-down meal the venue will be able to accommodate less people than if you were choosing to have an informal buffet/reception style layout. If you are thinking about having live entertainment such as a band, the venue will also need to factor in the space that is required for them and possibly a stage if they do not have one built in, which would again decrease their capacity. It is also important to note here that if venues give you a maximum number for that space, not to exceed it, for fire regulation purposes.
Don't forget, you may also want to ensure that the number of guests that you are booking the space for is suitable. For example, you don't want to hire a function room that can fit 150 people if your event is only for 50, because there will be too much empty space and your guests could potentially feel lost in it which could in turn negatively impact your event.
Also ask the venue if they require you to sign for a minimum number of guests too.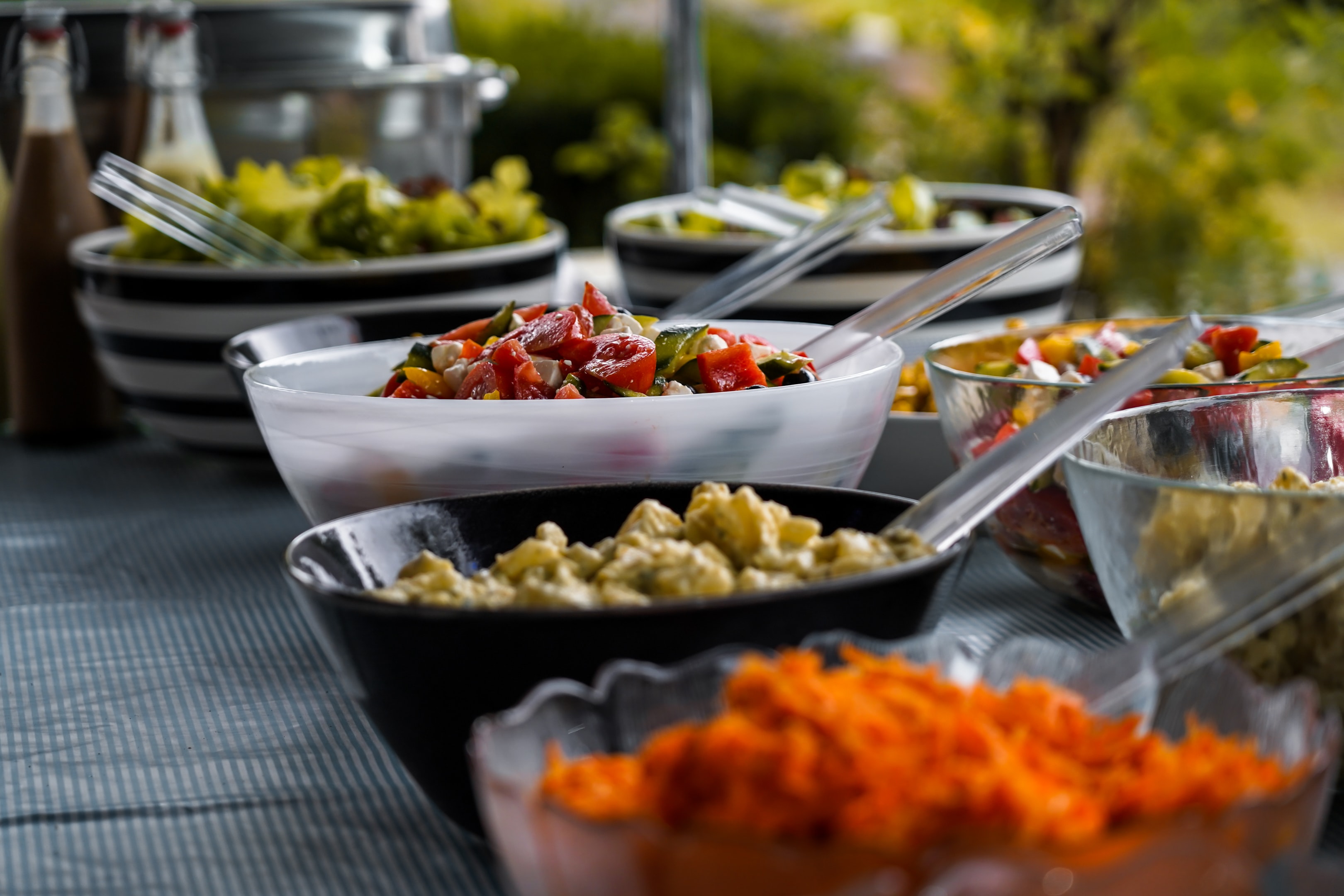 Catering
It's true what they say, food is extremely important to the success of an event. If the food is not up to your expectations, you'll remember this for years to come.
When you're searching for your venue, ensure that what you are looking for catering-wise they can accommodate. It might be that you specifically want Indian food, or you have a lot of guests with dietary requirements, or you may even wish to do the catering yourself. Whatever it is, make sure you are clear with the venue that that is what you'd like and that it's important to you. Usually, the venue will be more than happy to assist with specific cuisine types and dietary requirements, however there are specific venues that do not allow external catering for health & safety reasons.
Décor
Once you've narrowed down your venue search, you're more than likely to go and visit the venue in person. This is a great time to not only ask the venue plenty of questions but see the venue's décor in the flesh and imagine your event taking place there. If you're lucky, the décor will be to your taste, so you won't need to spend out on too many extra decorations, but if it's not, first consider if it matters that much to the success of your event or if you can instead dress the venue up using table linen, chair covers & sashes, table centrepieces, floral arrangements and even the lighting.
A lot of venues are blank canvases, so this element shouldn't be too much of an issue, but it's always worth ensuring that you'll be happy with the look of your event – first impressions count!
---
We hope this list has been helpful for you in your quest to find the perfect event venue and that wherever you may choose, your event is a success!